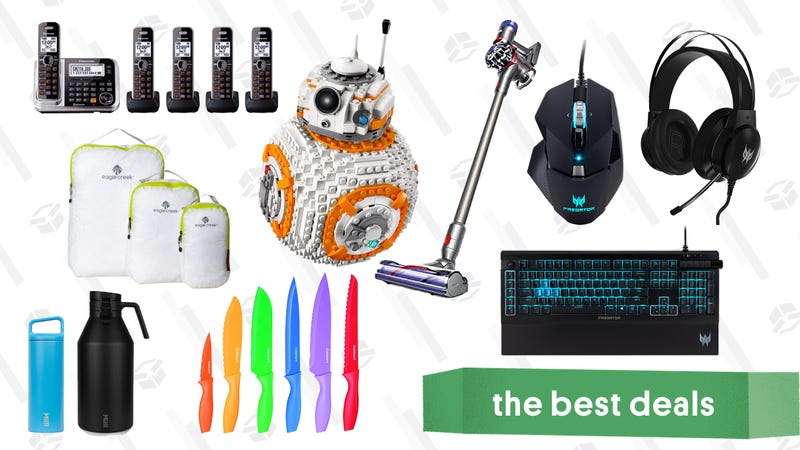 Best Deals of the Day
The best deals from around the web, updated daily.
A pair of Klipsch speakers, packing cubes, Lego BB-8, and eye gel lead off Thursday's Best Deals.
Bookmark Kinja Deals and follow us on Twitter to never miss a deal.
Today's Gold Box is discounting a number of Acer computers and peripherals for work and play, today only. Inside, you'll find a number of desktops, laptops, keyboards, headphones, monitors and gaming mice.

Those looking to upgrade their gaming rig have a lot of options from Acer's gaming line, Predator.
Just be warned, like all Gold Box deals, these prices will only stick around until the end of the day. For all the options, be sure to head over to the main post.
---
Klipsch makes some of the best speakers out there, and you can get a pair of powered R-15PM powered monitors today for just $282 with promo code MC93LRPF. Since they're powered, they don't require a separate amp, making them a nice middle ground between traditional home theater speakers and a sound bar.

If you want to learn more about them before you buy, CNET has a pretty comprehensive review.
---
Amazon's new Echo Dot is functionally the same as the old one—it's basically a cheap way to put Alexa in every room—but its speaker is better, and it looks like something you won't necessarily want to hide behind a plant. Normally $50, Daily Steals' Facebook marketplace is blowing them out for $30 right now.
---
Private Internet Access is our readers' favorite VPN service, thanks in part to having lower prices than most of the competition. Starting on March 18 though, the company is raising its prices for the first time ever, while also doubling its device connection limit from five to ten.

The new prices:
1 month: $9.99 (up from $6.95)
1 year: $71.88 (up from $39.95)
2 years: $83.87 (up from $69.95)
Those are pretty significant price hikes, but the company will allow active customers to continue renewing their account for whatever they were previously paying, meaning this week is a great time to sign up, if you don't already have a VPN service.
---
Our readers can enjoy even better prices than the public through the following links:

Once you buy a Dyson cordless stick vacuum, something strange happens to your brain chemistry: you actually start to enjoy vacuuming. Or at least you don't mind it. When you eliminate the cord unwrapping ritual without sacrificing power, it barely feels like a chore. It's the equivalent of checking a text on your phone, versus walking to your computer, turning it on, opening a browser, and going to your email.

The Dyson V7 isn't the newest or most powerful model, but its brush bar is 75% more powerful than the V6, making it great for low pile rugs and carpets, in addition to hard floors. The V6 is one of my favorite purchases of the last several years, and today's refurbished V7 deal is less than I spent on my own refurb.
---
There are a lot of packing cubes out there, but Eagle Creek's Specter cubes are among the best, and you can grab three of them for $29 today, the best price Amazon's listed in over a year.
From our review on The Inventory:
Ultralight, water resistant, translucent, washable, and sporting a full-zip design and handles, the Specter line is easy to pack, easy to use, and won't weigh you down.
---
I have to say, I don't think pressure washers ever crossed my mind as a market Anker might compete in, but here we are. Its 2100 PSI and 1.78 gallons per minute specs should be more than enough power to clean your car or driveway, and its 35' power cable and 26' hose mean you probably won't even need an extension cord to go with it.

Its typical $130-$160 list price is a pretty solid value given those specs, but it's even more enticing at today's all-time low $118. If you aren't convinced, five minutes on r/pressurewasherporn will change your mind.
---
I freely admit that not everybody needs a miter saw. In fact, most people probably shouldn't own one. But if you're in the market, this well-reviewed 12" DEWALT is marked down to an all-time low $300 today, from its usual $350. With a near-perfect 4.8 star review average from over 300 customers, and the ability to cut at 45 degree angles, there's no need to measure twice here.
---
While they might not conform to the classic look of our favorite chef's knives , this Cuisinart knife set is anything but dull (get it?). You can own the whole collection today for just $15, one of the best prices we've seen.

Don't let the colors fool you, these knives are stainless steel, and extremely sharp. The set has a 4.6 star average on nearly 4,000 reviews, and while the colors might not seem like your thing, they do help you keep track and avoid cross-contaminating food while you use them.
---
From growlers and howlers to tumblers and camp cups, Miir makes some of our favorite drinkware around, whether you're hauling it into the backcountry, or sipping from it at home.